Nürburgring trip 2019
On October 11. it was time again for a trip down to the legendary Nürburgring race track in Germany. I think this was my 6th time , all of them with my own car.
As usual half the people who was going to join chickened out ,  but at the end several people jumped on at short notice so we ended up being two cars and 5 people.
The date was chosen based on the dedicated Track day held by https://circuit-days.co.uk  I was lucky and got a ticket from a friend for the early bird discount price and was really pumped to finally get some serious track time without endless accidents,  first timers in rentals and less crowded track.
My goal was to set a sub 8 min BTG time to better my 8.15 from back in 2015.  The car was faster than ever, I had the best possible crew with me in case shit was hitting the fans and weather forecast looked promising.
The trip down was longer than expected.  We decided to take the ferry from Larvik -> Hirtshals and drive the 1000 km trough Denmark and into Germany as we have done several times before. Expected arrival time was ~22:00 ish.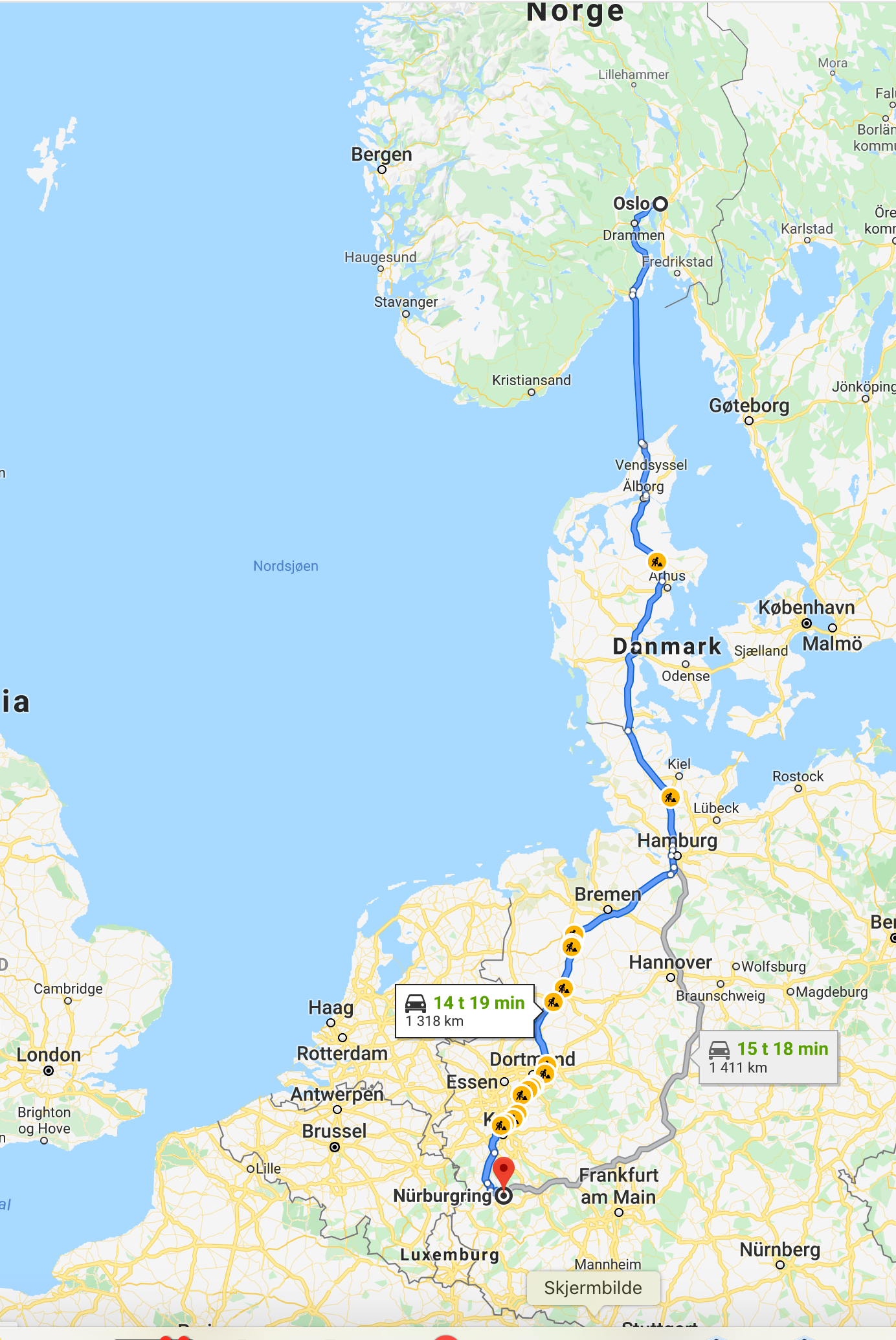 Instead of the 14 hours estimated in google maps it took me 21 hours from Oslo until I arrived at the Haus Pit-Lane 01:30.  Terrible weather, traffic jams (stau) and lots of road work as can bee seen in the pic above.
Woke up to some very nice weather on Saturday accompanied by some sweet sweet race car sounds from early shake down sessions nearby. View from my room.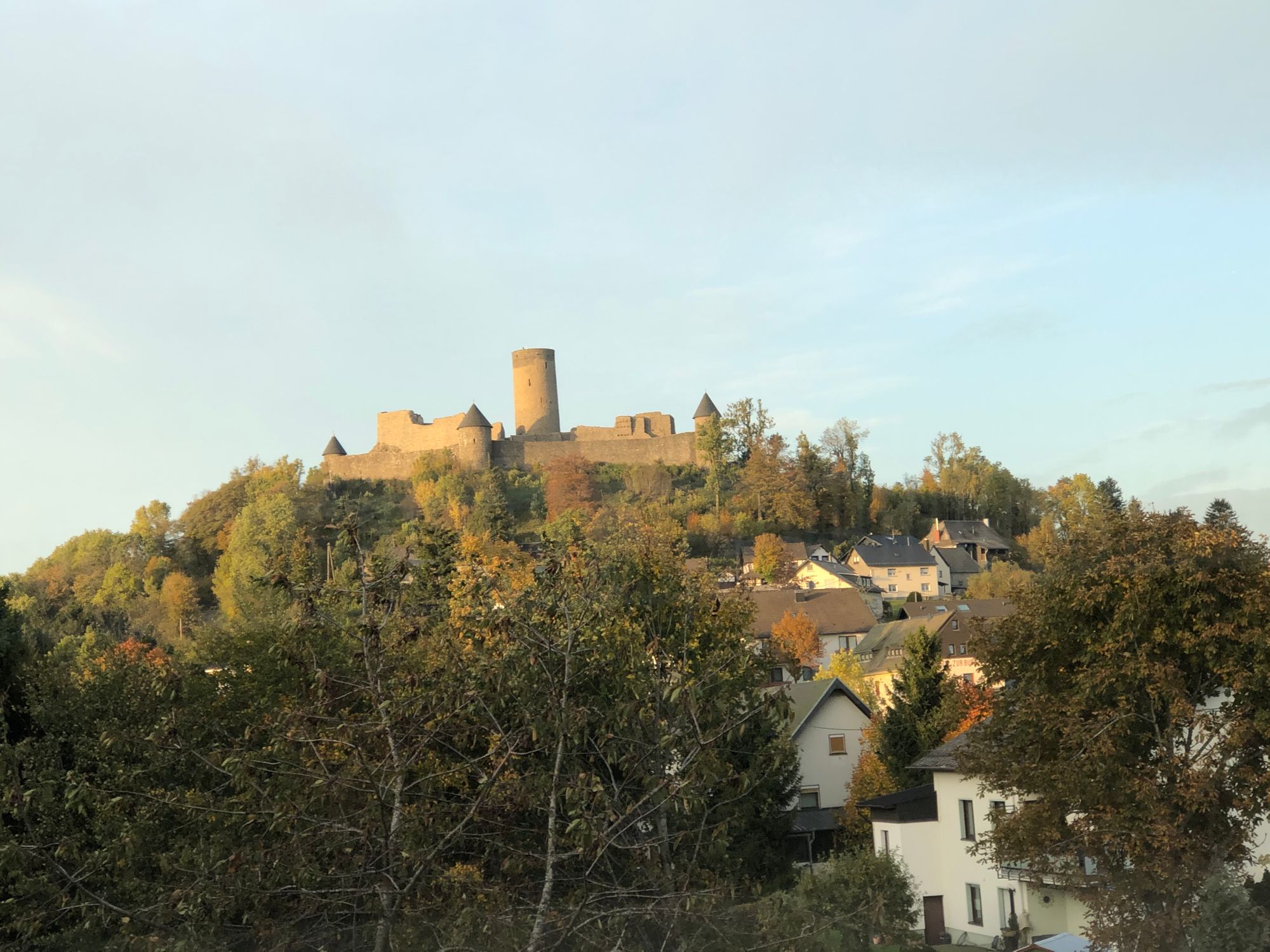 After a quick breakfast at Hotel am Tiergarten I joined the others at Brünchen to see the 4 hour VLN race. Extremely tired after the trip down so was kind of happy to hear that the evening Touristen Fahrten (TF) session was canceled due to delays during the VLN start.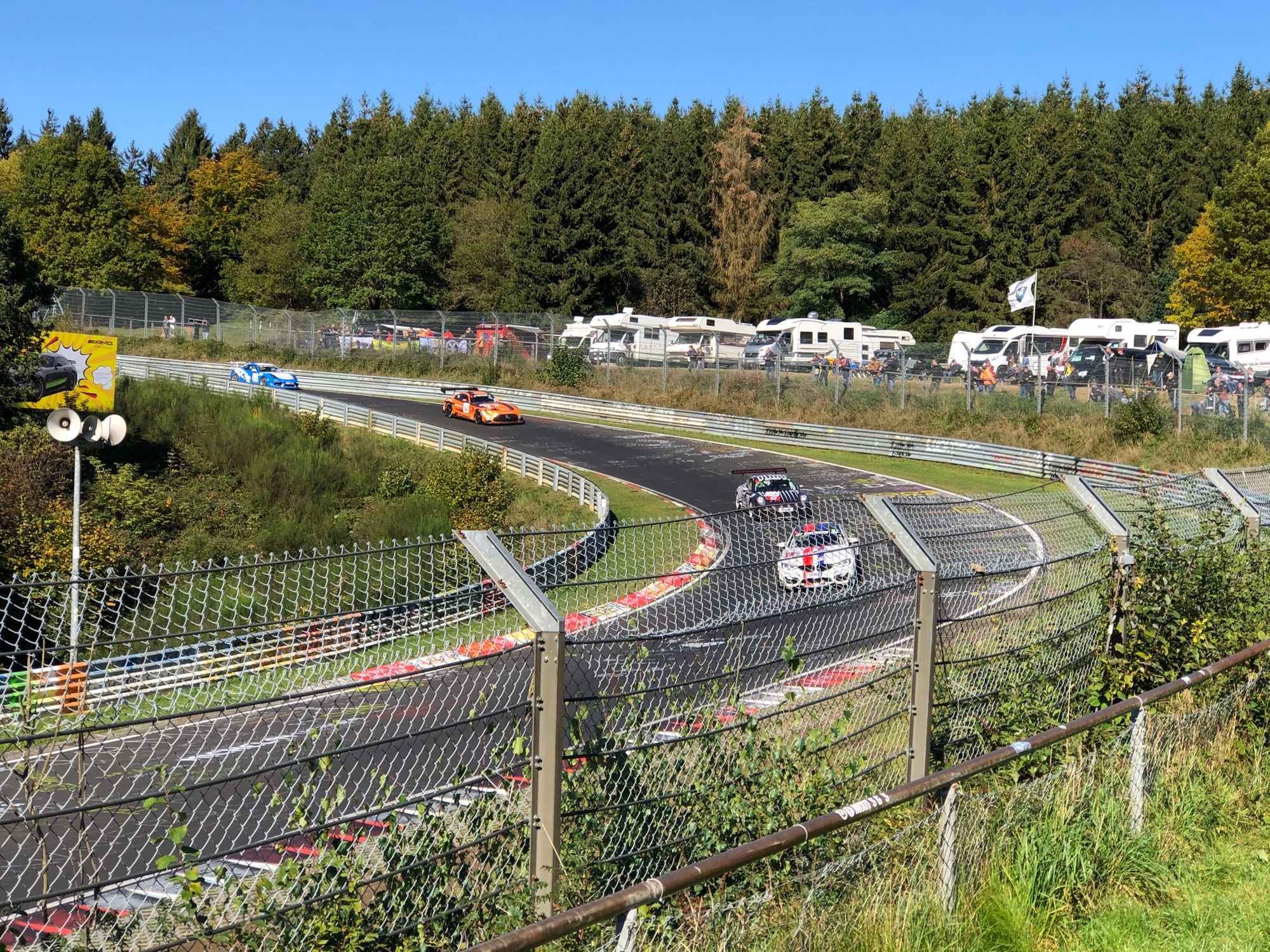 The SP9 - GT3 class was insane when seeing up close how fast they went compared to the other classes. The V8 Merc SLS AMG and BMW M6'es was extremely planted and had this deep growling sound resonating trough the forest.
Spent the rest of the day sightseeing : Tankstelle, Ring Werk, Adenau, Grüne Hölle, Breidscheid etc. It's hard not to fall in love with this place. Everything and everyone is about the cars and the track.
Burger and Bitburger at Lindenhof in the evening.  10 beers later we met a Norwegian race car driver/instructor which sat in a pub and analyzed the team drivers performance from data logs during the VLN race. A 60 min intense Q&A a.k.a interrogation followed until he managed to escape. Dude was 60 years old and raced anything anywhere in the world including VLN, 25h of Thunderhill (in a Miata) etc.
Sunday was time for TF. I had a bit too much local brew the night before so didn't do my first lap before around 12.
The weather was nice and warm but the fog and moisture that happened during the night would not let go. Some parts of the track was still wet and other parts only had a thin dry line with wet patches on the side. Lots of traffic as well so trying to set a fast lap was not on my mind.
 
I managed only two laps with passengers before the track  closed due to accidents.
I think it was closed 3 times before we headed to Adenau for lunch where the last one closed down the track for more than one hour.  I probably could have done more laps but didn't see the point since I had the track for a full 8 hours the day after.
Later that evening I went to the drivers meeting for the upcoming trackday.
It was held at the Lindner Congress hotel. Some of the attendees felt the need to park their daily beaters at the entrance.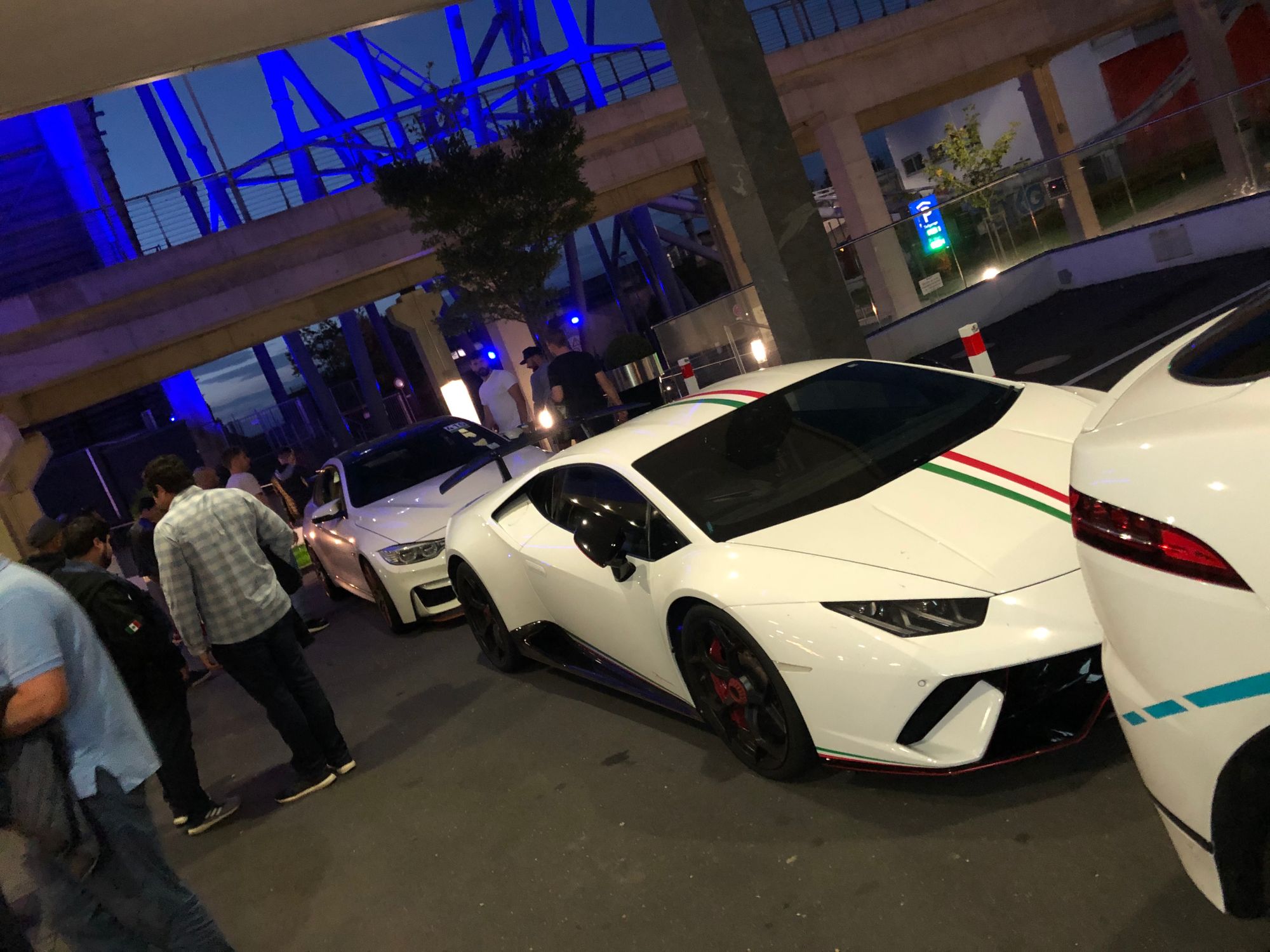 The crowd was primarily in their 40-50s, like me.
Dale ( bridgetogantry.com ) did the actual talking and went trough the rules and all the risks involved in spectacular fashion.  Guard rails and in how deep of an economical shit you can end up in by even remotely brushing one with your car was the hot topic. Very comforting.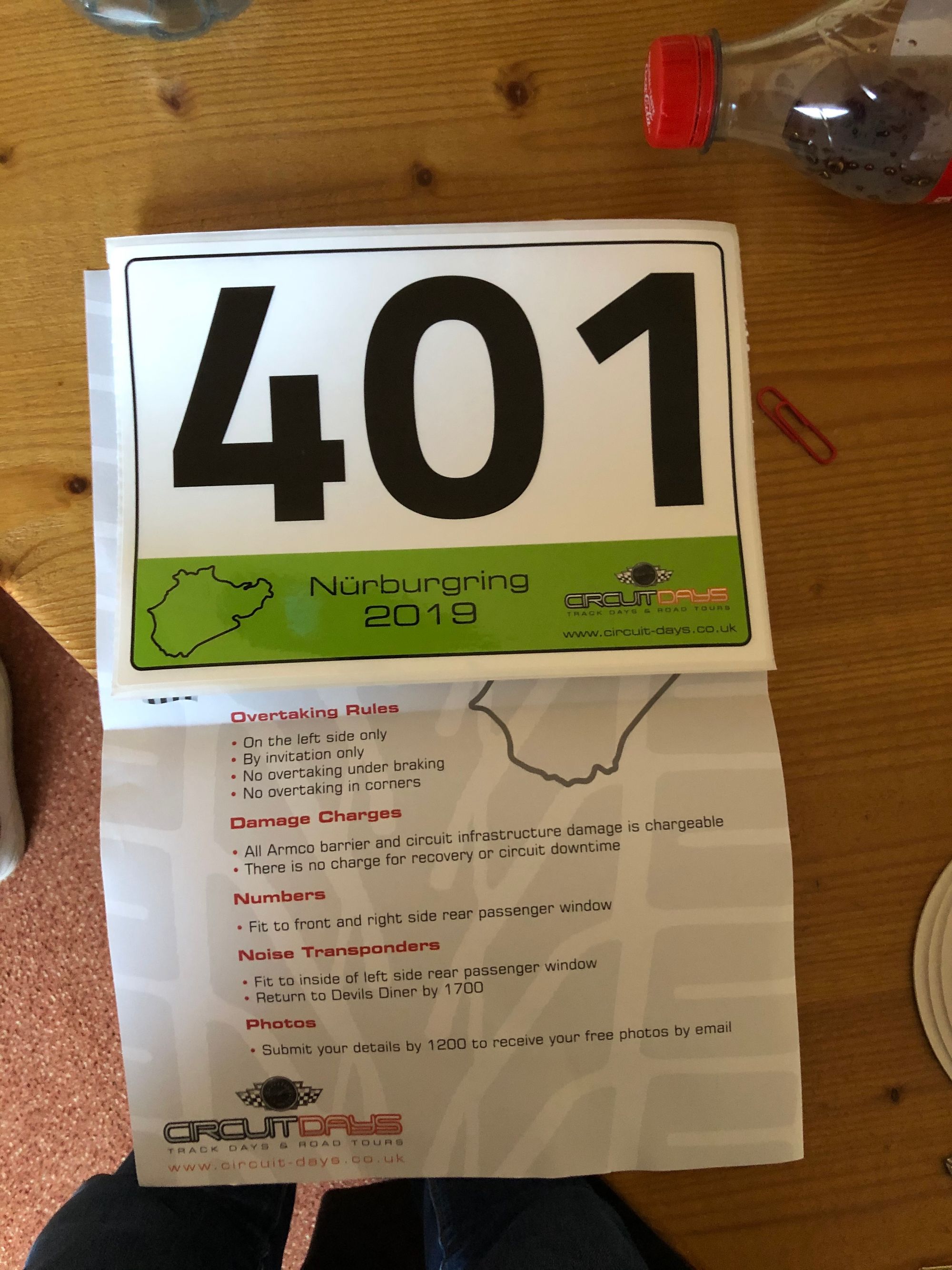 Spent the rest of the evening at Pistenklause with some great food.
Monday was track day time.
Nice weather. Pic taken from Grüne Hölle at around 07:50 during the morning drivers meeting.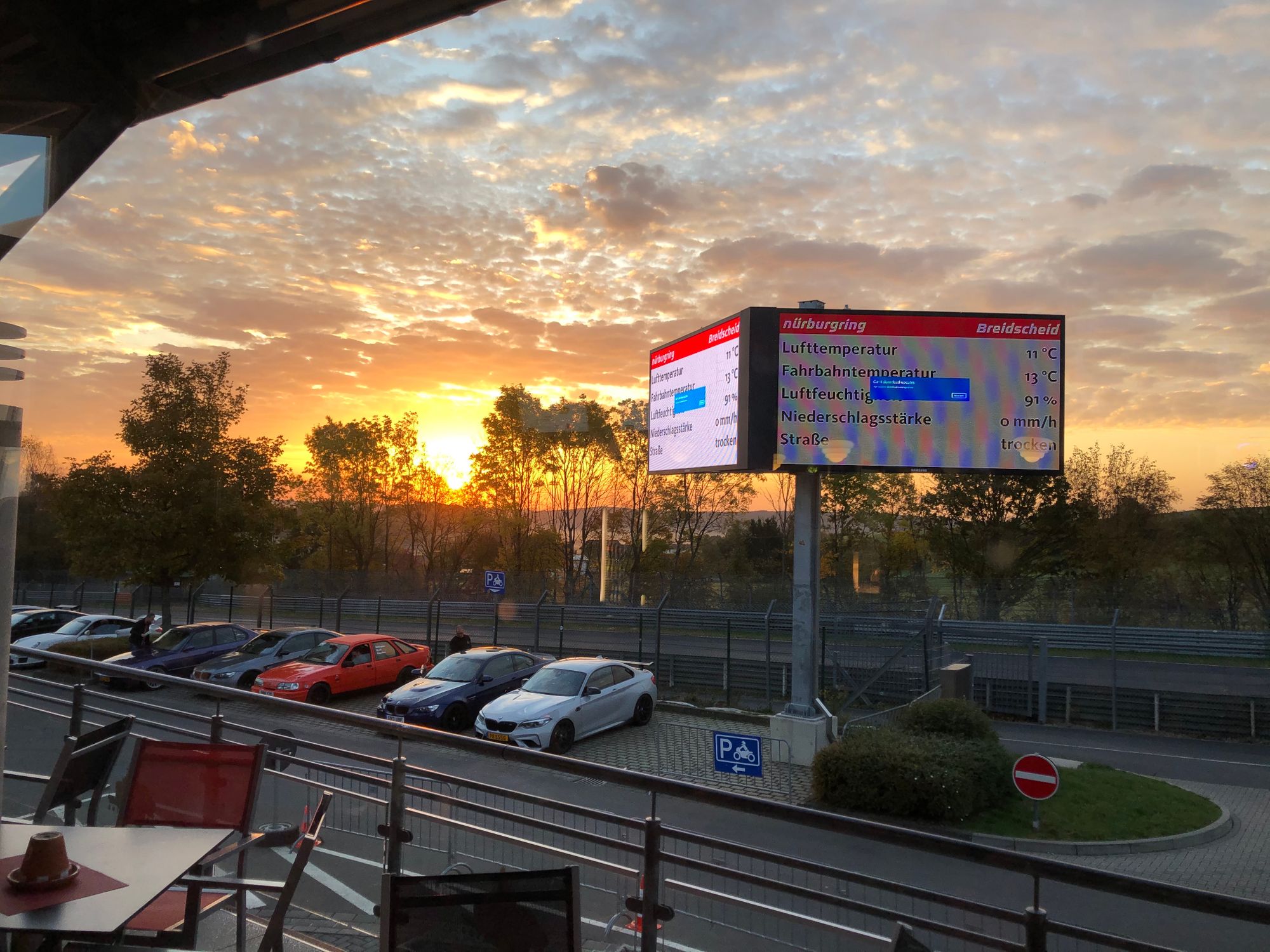 The event started out with warmup laps from 0800-0900 where no overtaking or speeds above 100 km/h was allowed.
This was a good idea as it was slippery as hell on parts of the track.
I ran two laps with a pack of something that looked like fully rigged race cars at a pretty good pace.  Nice way to get familiar with the track and optimal line.
Despite the rules I counted two cars at the side of the track during warmup.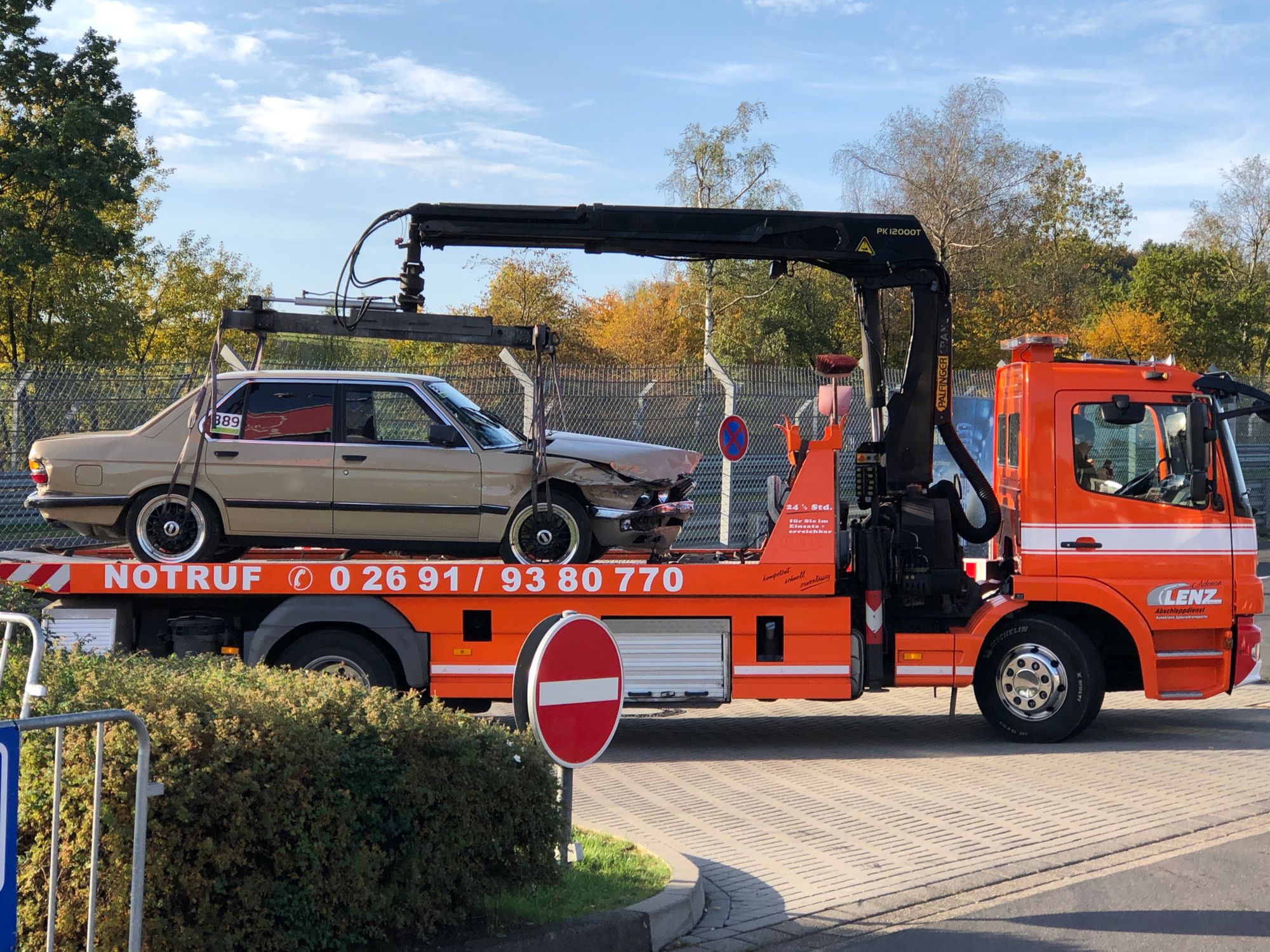 At 0900 everybody and everything rushed to the gates. I decided wait a bit until it calmed down.  20 mins in and the track got closed. Someone managed to crash so hard that they actually went trough the guard rail.  Not sure how long it took to patch that up but I had plenty of time to walk around the parking lot: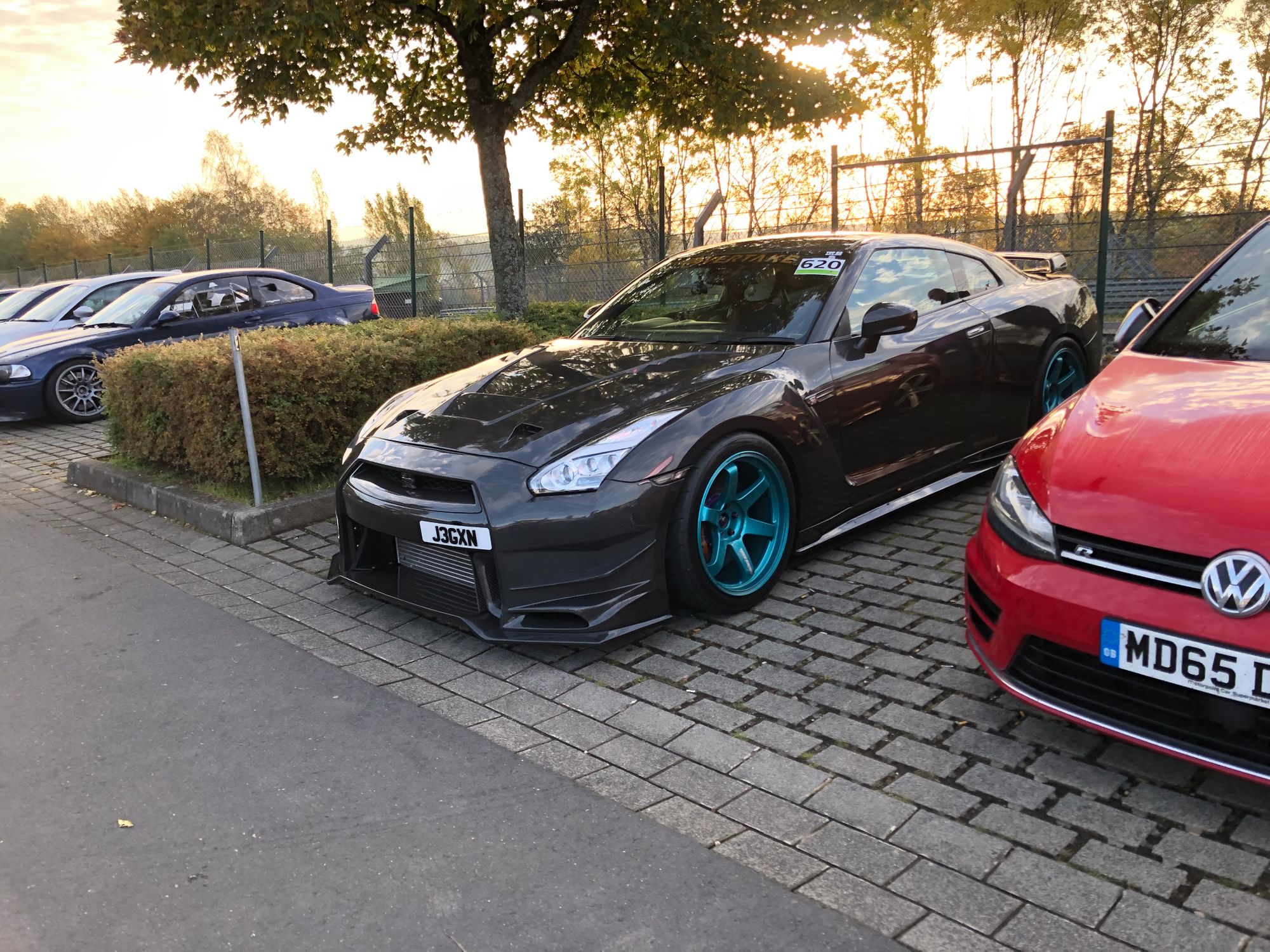 Eventually the track opened again so I rushed to my car buckled up and got my first non restricted lap.
It was way more traffic then what I had expected. Lots of fully caged faster cars to watch out for in the mirror and slower rentals hugging the right side of the track (as they should).  The Apex ring taxis was super aggressive. Dive bombing in from behind while frantically blinking with the head lights.  Probably trying to compensate for the limited track time and customers waiting for their ride.
Not what I had expected.  Just as bad as busy TF in August.
Went to get some gasoline and a quick snack after that. Came back and the track was closed again.
This continued trough the day. Not sure how many times the track was closed.  The AMG GTR pictured above was responsible for at least one hours closed track:
https://www.facebook.com/plugins/video.php?href=https%3A%2F%2Fwww.facebook.com%2FNurburgringNowOfficial%2Fvideos%2F557109884860542%2F
I got some laps in at around 13:00. This time I started to get up to speed and track conditions were dry except at the bottom of Fuchsröhre.  Car worked great except a slight rubbing sound during right turns. Didn't notice before traffic slowed down due to permanent yellow flag before Brünchen.
Took the car back to the hotel at Nürburg and checked all four corners. The sound was from LF wheel rubbing on the inside fender wall. Probably due to 15 year old OEM bushings but not conclusive. Tore off some already bruised inner fender bits that might have been the problem and got the wheels back on.
Got back to the track around 14:00, two hours before closing.
Parked the car  and thought to myself: F*** ****.  
I had lost all interest. No fun at all. Risk > Reward.
Did not  trust the car, the track or  the event, so I called it a day.  
<RANT>
A lot has changed since my first time here in 2007. More visitors, faster cars, more rentals and taxis, higher prices .
But the track has not changed much. The guard rails, track width and gravel zones are pretty much the same as when they upgraded it in 1971.  With the performance and speed of newer cars  any form of drive off seems to result in a closed track or at best long periods of yellow zones for track repair.  
They used 2.3 million Euro on a furking roller coster that never happened and probably 10 more on Ring Werk, but actually widening the racetrack to international standards with large paved runoffs will probably never happen.  Not even the parts of the track where accidents are most frequent.
I can't remember the last time I saw an accident during a Norwegian trackday (not drift or Gatebil).  During TF I have experienced  as much as one per hour of opening time.
Also the Grünehölle parking is waay too small. Entry|exit straight into a roundabout causing queues in 4 directions.
What about doing some basic German engineering and having entry and exit in opposite end of the property like any gas station, parking lot, supermarket etc. have had since the wheel was invented.
Maybe there are no incentives for the track owners to improve the track since every party involved gets a piece of the cake when an accident happens: towing, impound, guard rails or any other damage to the track.  If the accidents causes the track to close there is 1500 EUR per hour of closing time as well.  Complete menu with prices here .
</RANT>
During this day I pretty much decided that this was my last time visiting the Ring with my project car.  Maybe I'll change my mind, but at the time of writing one month later I have not. I rather focus on attending as many trackdays as possible in Norway during the season. That doesn't mean that I won't be back as a passenger or in a non modified car as the rest of this trip has been a blast:  nice food, weather, people and just the experience of being in the motor mekka of the world!